04 / 05 / 2017
NPF Kaviant –cooling lubricant innovations

NPF Kaviant will present cooling lubricant innovations and hardware at the 18th edition of the Metalloobrabotka International Exhibition.
Compared to regular cooling lubricants, Ecomill and Ecogrind products markedly increase the feasibility of operations with higher labor productivity, tool life gain, and reduction of tool costs.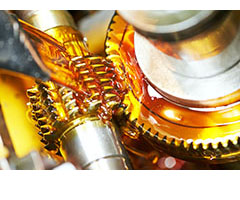 NPF Kaviant's cooling lubricants comply with the latest international and national safety standards which are raised year after year. It is a competitive edge of NPF Kaviant's cooling lubricants that the products adjust to the environment. The company produces cooling lubricants at its own facilities in accordance with the needs of a particular customer.
In addition to cooling lubricants, NPF Kaviant will present cooling lubricant production equipment, such as pumps and cleaning and control systems, at Metalloobrabotka 2017. Compared to foreign analogues, the equipment costs little and has identical technical features.
The Metalloobrabotka 2017 International Exhibition for Equipment, Instruments and Tools for the Metalworking Industry is organized by Expocentre AO and the Stankoinstrument Association of Machine-Tool Manufacturers. The exhibition will take place at Expocentre Fairgrounds in Moscow from May 15 to 19, 2017.
***
NPF Kaviant Research and Production Company is an innovative enterprise offering the next generation cooling lubricants, oils, lubricants and cooling lubricant equipment of its own make on the market. The company's clients are medium and big machine building and metallurgical enterprises.
Launched in 1984, the Metalloobrabotka International Exhibition is a major machine tool building project in Russia and the CIS which presents the latest solutions for modernization of the Russian machine building industry.
Media Centre

print version