28 / 04 / 2017
Laser cutting by Han's Laser at the Metalloobrabotka 2017 International Exhibition
Chinese company Han's Laser will present the G3015MF Fiber Laser Cutter at the Metalloobrabotka 2017 International Exhibition.
The cutter was listed as one of the top ten innovative machine tools in 2012. It cuts sheets up to 25mm thick and features high power and accurate positioning. The cutter's bearing frame goes through the process of annealing and low-frequency vibration, providing high rigidity and strength.
The tool is used for cutting sheet materials in the production of aircraft, rockets, electronic items, automobiles, ships, ventilation and shelving systems, electric boxes, etc.
The standard tool consists of a closed-type positioning table with an additional table for loading/unloading material, an electric box with a CNC control unit, an IPG laser source, a cooling system, a 380V voltage regulator, an industrial air dehumidifier, an industrial air compressor, with a separate 1,200-liter receiver, and a gas removal system.
The tool is a profitable solution for medium and big enterprises thanks to its compact size, convenient controls and cutting quality.
The tool is put on display at the Han's Laser stand 83Ñ40 in Pavilion No.8.
The Metalloobrabotka 2017 International Exhibition for Equipment, Instruments and Tools for the Metalworking Industry is organized by Expocentre and the Stankoinstrument Association of Machine-Tool Manufacturers. The exhibition will take place at Expocentre Fairgrounds in Moscow from May 15 to 19, 2017.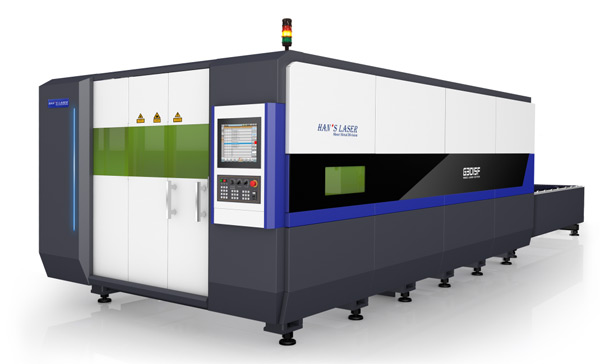 ***
HAN'S LASER TECHNOLOGY INDUSTRY GROUP CO., LTD has been a major manufacturer of laser equipment in Asia since 1996. As of today, the company's market value tops $ 2.83 billion. Han's Laser builds over 200 types of machine tools, including laser markers, laser welding machines, laser cutters, sub-surface laser engravers, laser indicators, etc. The hardware is widely used in the production of household electronics, integrated circuits, telecom equipment, computers, automobile parts, optical elements, construction materials, medical instruments, jewelry, packing materials and souvenirs, as well as fashion design and production, city illumination and many other spheres. The company's R&D specialists have registered over 300 patents and dozens of software copyright certificates. Han's Laser is one of the few companies possessing a patented ultraviolet laser technology. Before commercialization, all Han's Laser products are tested for compliance with ISO 9001 and ISO 14001 standards. Numerous types of laser equipment have been issued CE marks.
Launched in 1984, the Metalloobrabotka International Exhibition is a major machine tool project in Russia and the CIS which presents the latest solutions for modernization of the Russian machine building industry.

print version