UNIMACH Automatic Sheet Metal Cutting Equipment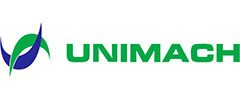 UNIMACH invites all participants and visitors to Metalloobrabotka 2020 to visit Stand 21C57 in Pavilion No.2 where the company will demonstrate its laser metal cutting machines.
The laser cutting systems of the Unimach Lasercut Expert series is the most productive solution in the entire range of the UNIMACH machines. This series is generally in high demand from big businesses. A wide selection of auxiliary mechanical tools reduces equipment downtime to a minimum. The equipment is capable of machining metals as thick as 3 to 30 mm (steel), or 25 mm (aluminum), or 24 mm (stainless steel).

The standard machine delivery set includes:
rigid all-welded heat-treated milled bed
coordinate system of the bridge type
lightweight composite bridge
high-precision linear guides with integrated feedback
linear actuator for X-axis and Y-axis
smoke exhaust system of a zonal type, the zones automatically changed over
IPG Photonics ytterbium-doped fiber laser
water/air cooler system (chiller)
FoCut focal length control system
optical laser head LH-105 with an automatically driven lens
operator station UM-103 (IP65, including an industrial-type 19" LCD display, a stationary machine control panel, and a tuck-away keyboard)
UniCut software
automatic gas console for four gases (two gases fed at a pressure of up to 10 atm. and the other two, at a pressure of up to 20 atm.)
cabinet-type protection of the cutting zone providing access to the working table
automated shuttle-type table
SPTA set.
The machines of the Unimach LaserCut Master series open a wider range of production opportunities for medium and big businesses. Thanks to its reduced overall dimensions the equipment may suitably be installed even within a small production area. The key feature of the LaserCut Master is the linear motors for the X- and Y-axes, the motors providing outstanding performance in terms of movement speed and acceleration (usually, such motors are used in machines of high price levels). The optical head moves at a speed of up to 150 m/min with an acceleration of up to 2.5 G and accuracy of ± 0.05 mm/m.
The company will also exhibit its proprietary sheet bending equipment of the Unimach Unibend series.
The UNIMACH machines:
offer minimum power consumption (the fiber lasers and linear actuator have high efficiency while the ventilation filter unit operates in the power saving mode)
require minimum expendable materials (there is no mirror radiation transmission path, a simple yet highly efficient cooling system is used, no high-purity gas is required as a laser active medium, the laser uses as few expendable components as possible and such components are very cheap, the line actuator uses no expendable components)
provide extended service life of the expendable materials (extended service life of the fiber laser radiator, minimum wear of the linear actuator components)
require inexpensive and readily available service (free maintenance service during warrantee period, remote troubleshooting, a share of spare parts of Russian localization amounts to 85%, periodical alignment and cleaning of optical components by highly qualified personnel is not necessary, the linear actuator is maintenance free).
The Metalloobrabotka 2020 International Exhibition for Equipment, Instruments and Tools for the Metalworking Industry is organised by EXPOCENTRE AO and the Stankoinstrument Russian Association of Machine-Tool Manufacturers. The exhibition will be held from 25 to 29 May 2010 at EXPOCENTRE Fairgrounds, Moscow.
***
UNIMACH is a Russian company producing metal cutting systems. It manufactures and supplies self-developed laser machines. All key components of laser machines are manufactured in the company's production areas, such components including, without limitation, beds, optical heads, control electronics, linear actuators and the like. Starting from 2007 the company has supplied more than 500 machines to various Russian enterprises and is acknowledged to be a reliable partner of the Russian domestic production sector.
---