Feedback from Metalloobrabotka 2019 exhibitors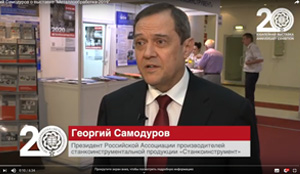 Georgy Samodurov,
President of the Stankoinstrument
Russian Machine Tool Association

The Metalloobrabotka exhibition continues to grow in size and the number of exhibitors. Nearly every stand at the trade show demonstrates modern equipment and new products. I am glad that enterprises are set to develop technologies and create modern equipment on the basis of innovations. The trade show is an instrument which shows to potential buyers how modern metalworking technologies are developing.

Watch video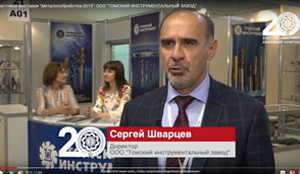 Sergey Shvartsev,
Director of Tomsk Instrument-Making Plant

We see Metalloobrabotka as the best, key industry show, and our participation has been continuous since day one, even during the hardest years. We demonstrate new instruments which provoke a keen interest at the trade show. Our visitors come from many regions. The exhibition and its governance are improving year after year, which is proven by the number of participants and new faces.

Watch video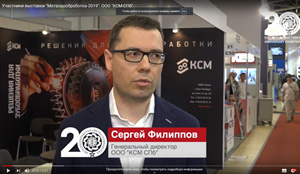 Sergey Filippov,
General Director of KSM St. Petersburg:

We are a long-standing participant in the Metalloobrabotka exhibition. This year we demonstrate a new conical gear tooth profile grinder which has never been put on display in Russia before. This is a top-notch product. It is important to us to demonstrate our abilities. After a client sees this, he will draw a conclusion about our competences, and it will be easier to make a choice in our favor. Our stand is located in a busy place. We are holding lots of negotiations and are happy with the show.

Metalloobrabotka is the only opportunity to gather all buyers of our equipment and services in one place, set up meetings, and hold substantive negotiations within one week. We conclude contracts after every Metalloobrabotka show.

Watch video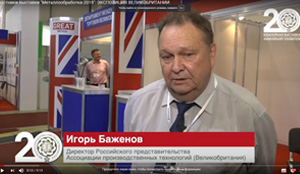 Igor Bazhenov, Director of the Russian office
of the Manufacturing Technologies Association (UK)

We first visited the Metalloobrabotka exhibition as representatives of the Association in 2006. Back then we were just visitors. Yet we realized the importance and benefit of participation, used the opportunity provided by Expocenter, and built our information stand as the national association at the exhibition as early as in the following year.

Since last year, the Manufacturing Technologies Association invited its members, British manufacturers of machine tools, to participate in the show and organised a group stand with their consent and in collaboration with Expocentre and the Stankoinstrument Association.

The British participation in the show has an obvious objective. We want to promote our products, make contacts, and find new buyers, partners, and distributors. Just today we had a series of important negotiations with representatives of Russian industrial companies interested in buying British equipment.

Metalloobrabotka is a central event in the eyes of our association. We have decided that the association will take no part in practically any other exhibition than Metalloobrabotka.

Watch video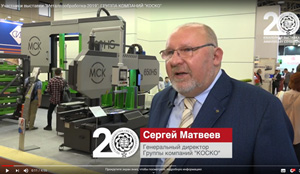 Sergey Matveyev,
General Director of KOSKO Group

This year's exhibition has many more participants than before. This means that a series of crises is over, the world is turning towards business, and business is recouping. Secondly, the new technologies which have been told about so much lately are now appearing at the exhibition. The activity of businesses participating in this show is obvious.

We are trying to present new products developed over the year at every Metalloobrabotka show. This time we demonstrate a family of horizontal band mills of rather big sizes which are of interest to visitors. We are so busy at our stand we can hardly catch our breath. We are absolutely satisfied.

Watch video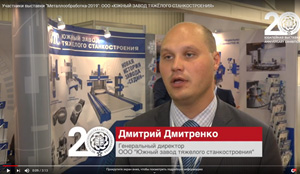 Dmitry Dmitriyenko,
General Director of Heavy Machine Tool Plant Yuzhny

This is the first time our plant is participating in Metalloobrabotka. It has been a historical process. Earlier, we took part in the trade show as a member of joint ventures. The company ceased to exist due to the market situation. We have a new investor, a new history, and we are going through reconstruction and entering the market. This exhibition gives an ample opportunity to make our presence known, to support it with demonstration of our products, rebuild contacts, and establish new ones.

Today has shown that our work at the exhibition is highly effective. We have had lots of contacts and visits. We are exchanging information which is interesting to us and our potential clients. The exhibition is successful. This is just the beginning. And three days are still ahead.

Watch video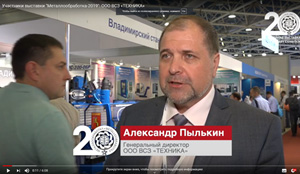 Alexander Pylkin,
General Director of VSZ Tekhnika

We are a regular participant in the Metalloobrabotka exhibition. This is one of the few opportunities to present our products and tell our clients about them. Today we demonstrate a computer-controlled routing machine and a computer-controlled grinding machine.

People here have a variety of needs, and we are trying to choose from our available products or customise machine tools for our clients. We are approached by chief engineers, plant directors, and product engineers at the trade show. We receive plenty of useful information, as they tell us what they do not like, and what should be changed to avoid making the same mistakes in the future.

The exhibition is comfortably organised. The stand has a good location. Visitors do not miss us. Today alone we have been visited by 44 potential buyers from various regions.

Watch video
Dmitry Kryukov,
Sales Director of KLOOS Vostok

KLOOS, which we represent in Russia, marked its centenary this year, and its Russian office is 20. This is our sixth Metalloobrabotka show, and we can see the result. So, we are planning to participate in the exhibition again next year. We have had lots of talks at today's exhibition. We appreciate the efforts of organisers, who are doing their best to make the show successful for exhibitors.

Welding is our company's specialty, so we hail the appearance of the welding section at Metalloobrabotka, which enables us to demonstrate our achievements. We are using Metalloobrabotka to offer welding technologies and our expertise and knowledge necessary for our Russian clients.

We have been contacted by numerous representatives of Russian enterprises and, hopefully, most visitors are satisfied with the competences presented to them. We agreed on working together with a majority of visitors. Hopefully, our cooperation will yield good results in the coming year by the time the next exhibition is held.

We discussed essential issues with the organisers while preparing for the exhibition. I am pleased that our wishes have been granted. We are satisfied with our interaction with the organisers during preparation for the exhibition, the provided conditions, logistics, and advertising that drew visitors to our stand. Our participation in the exhibition brings tangible results, and we receive plenty of new information from visitors, our potential clients. The exhibition is perfectly managed, this is a quality event.

Watch video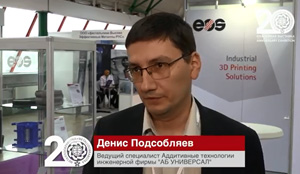 Denis Podsoblyayev,
Lead Specialist of EOS GmbH Electro Optical Systems

We have been participating in the exhibition for quite some time. We had no doubts about participation in the exhibition this year. EOS presents additive technology solutions. So, this is the first year we demonstrate our products in the pavilion presenting all additive technologies and solutions. We will be glad to continue our participation in the exhibition.

EOS is a global leader in the field of additive technologies, especially those used in metal working and production of metal and plastic pieces. Visitors come here to learn about new solutions, installations, and machines and their operation. All these issues are discussed at the exhibition. It is comfortable. The location is convenient, and there is good transport accessibility.

Congratulations on Expocenter's anniversary. I wish you to keep developing for at least 60 more years and present new ideas and shows. Here is the place where interesting shows are held. We gladly participate in Metalloobrabotka and also come here as visitors.

Watch video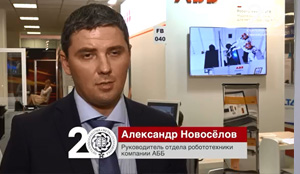 Alexander Novosyolov,
Head of ABB Robotics Department

ABB has been operating on the robotics market for over 30 years. Metalloobrabotka accommodates needs of the robotics industry, so here we look for our clients to offer robotised metalworking solutions. This is a very popular exhibition. Lots of corporate directors and chief production engineers from Moscow and other regions, such as St. Petersburg, Yekaterinburg, Kazan and even Crimea, gather here. Many regions come here, as well. Industry experts arrive from practically every part of Russia.

Visitors show interest in our robots. We plan to keep participating in this exhibition. This is a good place. Every necessary piece of infrastructure, such as hotels, shops, and restaurants, is available. There is no need to travel far, which is very convenient for visitors. I wish Expocenter to develop and to continue its expansion. May you succeed and progress together with us.

Watch video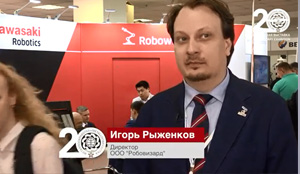 Igor Ryzhenkov,
Director of Robowisard

Our company represents the interests of such a giant as Kawasaki Robotics. This year's Metalloobrabotka is our point of meeting with old friends and partners whom we have been working together for the past ten years, although we have seen lots of new faces, as well. This is a venue for negotiations and conferences without which it would have been impossible to bring together so many top managers. We think the exhibition has a potential. We will expand our exposition next year. Kawasaki Robotics has things to show: over 80 robotic models for various uses which are in operation by leading manufacturers. Over ten of our robots are participating in the teaching and research process in the training center in St. Petersburg. We are planning to present all that at next year's exhibition.

The range of our visitors is broad, from students to manufacturers seeking concrete solutions. We are glad to see so many young people at the exhibition. Lots of questions have been asked about robotic solutions and their use. There is much work to be done for analyzing interaction with potential clients.

We are glad that Expocentre is a modern venue. The indisputable etalon of the European exhibition is Hanover Messe. Yet here, in Expocenter, the level is equally good, same as the quality of interaction with exhibitors and services. It is comfortable here. The Expocenter premises are big, modern, and conveniently located.

Watch video
---