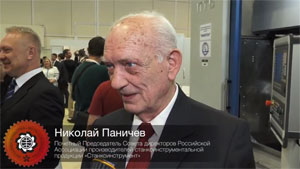 Nikolay Panichev,
Honorary Chairman of the Board
of Directors of the
Stankoinstrument Association

"Today Metalloobrabotka shows entirely new types of equipment which was developed over the last two or three years. This equipment is on a par with its foreign counterparts. It means that we are going in the right direction though not as fast as we would like. We see the revival of machine building as smart and advanced manufacturing. I would like to thank Expocentre for close and active cooperation with machine builders."

Video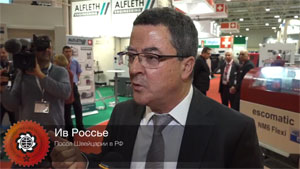 Yves Rossier,
Ambassador of Switzerland in the
Russian Federation

"There are very strong industrial traditions in Switzerland that is why trade shows like this one are very important for us. People tend to think we have only banks and chocolate but it is not true. Our manufacturing industries, including the machine-tool one, are very strong. The importance of the Russian market is obvious. Just look at the number of Swiss exhibitors who have come to this event. It's not the first time either. The participating companies evaluate the event themselves. It means this market is very important for them.
The exhibitors see an opportunity to find new partners. Today, the political difficulties hinder the business. They hope that the tensions between Russia and the rest of Europe will decline. The majority of Swiss exhibitors are small or medium businesses that present the latest technologies. They are happy to have a Swiss national pavilion where they can show their unique technologies."

Video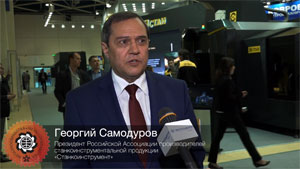 Georgiy Samodurov,
President of the Stankoinstrument Association

"In between annual editions of Metalloobrabotka its exhibitors are working on new developments and creating new designs and technologies to demonstrate them later at the show. Today, Metalloobrabotka is the main and largest machine building trade fair where one can show the latest trends of metalworking and metalworking equipment.
Metalworking is growing every year. There are no bigger larger metalworking trade fairs in Russia. Nowadays the government offers its support to create a more favorable environment for machine building enterprises. It helps to develop advanced technologies and products.
More than 500 companies from 30 countries take part in this show. There are businessmen who come here to meet their targets and plans. Today, those who want to work in the Russian market have to do it according to our laws and rules. The thing is that foreign companies which form joint ventures with Russian manufacturers get some economic benefits."

Video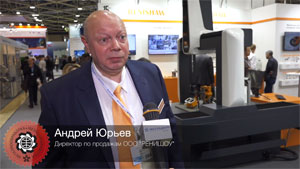 Andrey Yuriev,
Director of Sales, Renishaw

"Our company is 15 years old. Only once, in 2018, we didn't participate in Metalloobrabotka. Since then we have never missed and have no plans to miss this show.
It is an image building event for us. We show that we are growing, offering new products for the Russian market and trying to keep our metalworking industry on the global stage.
The year before last we introduced our new 3D metal powder printer. Back then we realized that it was impossible to fully show it at the stand. It was important to hold workshops, explain technologies and so on. That is why we have organized a supporting event. It gave us many promising contacts. Now we arrange supporting events to present other products as well.
We have many visitors to our stand. So far I haven't had enough time to analyze their priorities and interests. Besides, it is very nice to meet old friends. We would like to thank the organizers for this interesting gathering of professionals."

Video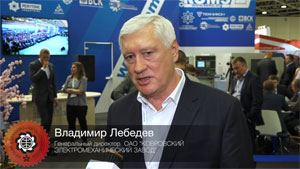 Vladimir Lebedev,
General Director, Kovrov
Electromechanical Plant

"Metalloobrabotka is an outstanding event for the industry. Once a year major companies come here to exchange experience and expertise, show their accomplishments and products, and most importantly find new technologies and equipment. Unfortunately, there are no other shows as great as this one. No show brings together as many companies from all over the world as Metalloobrabotka. We have talks with companies from different countries. This exhibition is not only the place to look for new equipment but also to look for new partners. I like that there a lot of visitors. Metalloobrabotka is a hive of activity despite the sanctions.
Our deadline for developing new equipment is a next edition of Metalloobrabotka. Today we show three new machine tools. Tomorrow we start our preparations for the next year's edition.
Expocentre Fairgrounds is the place many people know. This top quality venue is located in the city's centre and is convenient to get to. It is good that there are no electric power limits. It means we can show our equipment in operation. This equipment is demanding and expensive. Before spending so much money, a customer has to see the operating equipment with his or her own eyes not just look at a picture of it."

Video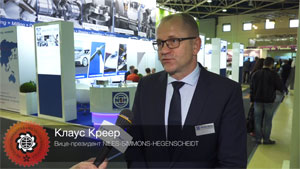 Klaus Kräher,
General Sales Manager,
Niles-Simmons-Hegenscheidt

"We've been participating in Metalloobrabotka for over 15 years. We started working in the Russian market a long time ago, before the reunification of Germany. This market is very important for us. We'd like to continue our cooperation with Russia. We hold many meaningful talks during the exhibition. In particular, we signed an agreement with the Moscow City Government on opening manufacturing facilities in the Moscow region. The exhibition gives us an opportunity to hold talks with heads and representatives of different companies, businessmen and statesmen.
We are looking forward to meeting both old and new customers at Metalloobrabotka 2018."

Video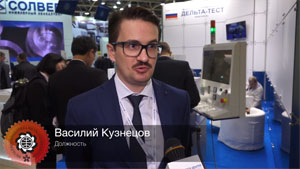 Vasiliy Kuznetsov,
Marketing and Development Director,
Delta-Test

"Metalloobrabotka is a key event for machine builders and their customers. There are a lot of visitors this year, a lot of contacts with foreign companies. The show helps to enter foreign markets.
Expocentre offers a great place for Russian manufacturers. The venue is getting better service wise. Everything is of high quality and friendly. Next year I will ask for the same stand location."

Video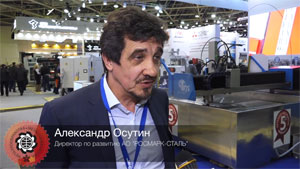 Aleksandr Osutin,
Business Development Director,
Rosmark-Steel

"Our first time at Metalloobrabotka was 20 years ago in 1997. Today we are happy to see our partners who have come from Australia, Sweden, Germany, Italy, Spain, France, China, Taiwan, and other countries.
Metalloobrabotka is a professionally managed trade show. There are almost no random people here. In the recent years, visitors have clear ideas of what they are looking for and what types of solutions they need for their enterprises. People even show their blueprints and drawings, and we try to help them. The market is not stable now. We don't see the growth which we got used to before 2008. We hope the economy will overcome all its problems. But right now we don't have enough financing. A lot of projects are moved to later dates. I am positive that these problems will be tackled by Russian enterprises. We will help with quality equipment, services and engineering."

Video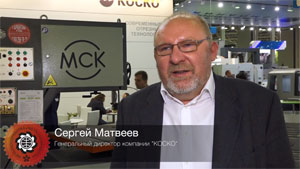 Sergey Matveev,
General Director, Kosco

"During the exhibition we had representatives of the Russian Ministry of Industry and Trade, Moscow deputy mayor and other officials visit out stand. I want to say that cooperation between the business and authorities help to develop the machine building industry. Metalloobrabotka is very important for us. It gives a great impetus for development. Every year we are trying to show something new. That is why the atmosphere created by Expocentre at Metalloobrabotka is very important because we have to feel comfortable and do our job.
Surprisingly, this year our horizontal bandsaw made in Russia has generated particular interest despite inexpensive Chinese and European machinery also exhibited at the show. We are even thinking about exporting it. Metalloobrabotka has our target audience. It's a big plus. We have an opportunity to network with our clients and not some random people."

Video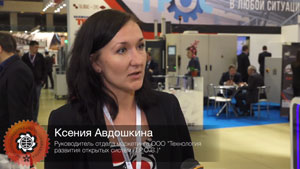 Ksenia Avdoshkina,
Head of Marketing, T.R.O.S

"We have participated in Metalloobrabotka for over 10 years. We believe it is the most important event for Russian machine builders.
It's worth noting that this year there are a lot of visitors. Some of them are new companies which have never met before. Here we expect to find new clients who will buy our machinery. I think that this time there are a lot of visitors form the central part of Russia, St. Petersburg and Kaliningrad.
We are going to be on this market for a long time. That is why we will participate in Metalloobrabotka next year and all the coming years. We plan to have a larger stand and bring more equipment to show it in operation. People have to touch it, assess its quality and reliability. We also want to take part in Technoforum this autumn to have contacts from even more regions."

Video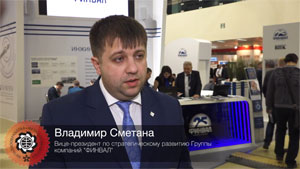 Vladimir Smetana,
Vice-President for Strategic
Development, FINVAL Group

"Last year our company turned 25 years. We are a major engineering company. This show is strategically important, key and the largest for us. This year we're its partners. In the future we are going to exhibit and take part in all supporting events.
Company owners who come to us are interested in using their assets efficiently. We discuss the world's best practices and instruments with engineers of these companies so that they can manufacture competitive products for both domestic and foreign markets. Today the Russian domestic market is decreasing. That is why we have to enter foreign markets. To do so, we have to use the world's best technologies, which is exactly what we offer our clients.
This year we see that the economy is reviving. We see projects that can be brought to life. I think the economy has passed its crisis peak. Now we have to work.
We will come back to Metalloobrabotka next year, and the year after next, and so on. It is a great business platform."

Video