15 / 05 / 2017
Chinese pavilion opened at Metalloobrabotka 2017
Metalloobrabotka 2017 was the first edition of this show where Chinese exhibitors had a special national pavilion.
The opening ceremony of the Chinese pavilion was attended by Assistant Minister Plenipotentiary in the Chinese Embassy in the Russian Federation Yu Tianmin, President of the Stankoinstrument Russian Association of Machine-Tool Manufacturers Georgiy Samodurov, Vice-President of the Stankoinstrument Association Marina Fedorova, Vice-President of the Chinese Machine-Tool Association Zhen Huieren, Deputy General Director of Expocentre AO Mikhail Tolkachev, Director of the Russian-Chinese Chamber for Facilitating Trade in Machinery and Innovative Products Maxim Samolyuk, and General Director of the China National Machine Tool Corporation Liang Feng.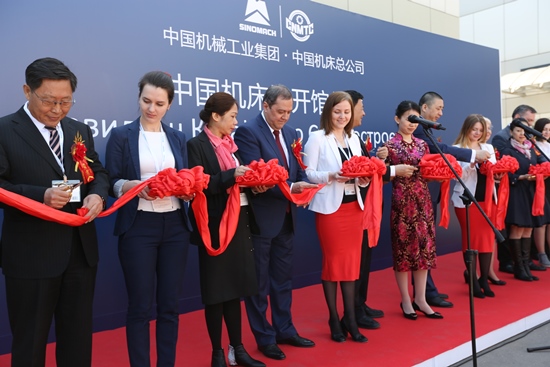 According to Mr. Liang Feng, the opening of the Chinese pavilion at the leading machine-tool show Metalloobrabotka proves that the Chinese-Russian cooperation is breaking a new ground. He assured that the China National Machine Tool Corporation will invest efforts into development of the Russian machine building and processing industries. Today, CNMTC has representative offices and joint ventures in Russia and plans to open sales, aftersales and training centres. It is also working on launching an industrial park of machinery and tools.
According to Mr. Samodurov, the Chinese pavilion at Metalloobrabotka and the exhibition itself give a unique opportunity to see the latest trends in development of metalworking technologies and design of state-of-the-art metalworking equipment. "Chinese machine builders plan to create joint ventures in Russia. We are sure that it can be beneficial for both parties," said the Stankoinstrument president.
Mr. Zhen Huieren talked about the complementarity of industries and markets of the two countries. He stressed that multipurpose exchanges on all levels, cooperation, assistance to transformation and modernization of the processing industry have become vital tasks for Chinese and Russian machine builders.
"More than 70 Chinese companies take part in this exhibition. We hope that Metalloobrabotka 2017 will play a positive role in stimulating industrial cooperation between China and Russia," said Mr. Zhen Huieren.
You can see the national Chinese pavilion in Pavilion No.4 of Expocentre Fairgrounds.
Press Service
Expocentre AO

print version