04 / 05 / 2017
Alfa-Polymer to demonstrate WAGNER E-LINE automatic powder coating system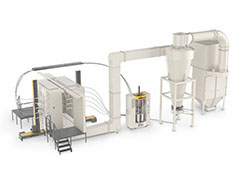 Alfa-Polymer, an official distributor of the global powder coating equipment manufacturer WAGNER GmbH, will present innovative powder coating system at the Metalloobrabotka Exhibition.
WAGNER E-LINE are budget-friendly and high-tech automatic powder coating systems incorporating innovative solutions of WAGNER and guaranteeing the best quality of coating for your products.
Innovative solutions – the WAGNER E-CUBE powder coating booth, the next-generation WAGNER PXE powder center, and the patented cyclone powder recovery system - make WAGNER E-LINE solutions unique.
The WAGNER E-CUBE booth is designed for efficient powder coating; it complies with every requirement to the technological process and the maximal output. The modular structure made of high-endurance antistatic PVC panels of up to 100 mm guarantees minimal adhesion of powder to the chamber's interior walls. The WAGNER philosophy of efficiency and budget-friendliness is fully applied in the E-CUBE booth, which is built to be energy efficient. The new engineering design supplemented with the utmost productivity demonstrates energy consumption twice lower than in any other competitive market products.
The WAGNER PXE powder center provides full and efficient control of the entire coating system by means of a convenient and informative 7-inch liquid crystal display. ALL IN ONE is based on the principle of fully automated control: instant change of any coating parameter, manipulator control, simple and intuitive interface, over 25 standard programs guaranteeing high productivity and manufacturability, compact design which minimizes the occupied space, and direct powder feed from a fluid tank or box.
The new cyclone recovery system features topography optimization and bionic design, which make it the most energy efficient system on the market, and the patented technology of square-section pipe elbows prevents negative turbulence and saves up to 40% of energy.
You may learn more about the WAGNER E-LINE automatic powder coating system at the Alfa-Polymer stand FA024 in Forum Pavilion.
The Metalloobrabotka 2017 International Exhibition for Equipment, Instruments and Tools for the Metalworking Industry is organized by Expocentre AO and the Stankoinstrument Association of Machine-Tool Manufacturers. The exhibition will take place at Expocentre Fairgrounds in Moscow from May 15 to 19, 2017.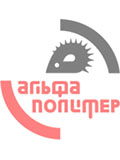 ***
Founded in 1999, Alfa-Polymer represents major global manufacturers of powder paint and full-cycle turn-key powder and liquid coating lines, as well as professional coating equipment, metal decoration materials and equipment, controlling and measuring systems, and decoration materials and equipment on the Russian market.
Launched in 1984, the Metalloobrabotka International Exhibition is a major machine tool project in Russia and the CIS which presents the latest solutions for modernization of the Russian machine building industry.
Media Centre

print version