20 / 03 / 2017
SCHUNK synergy will 'shine' at Metalloobrabotka 2017 International Exhibition for Equipment, Instruments and Tools for the Metalworking Industry

SCHUNK company from Germany will demonstrate the SCHUNK synergy method based on the joint action of gripper systems and clamping technologies.
SCHUNK will show a robotized model of a processing center providing for automated machine loading and offloading, tooling and retooling, as well as the operation VERO-S pallet system in stand 76C55 (Pavilion No.7, Hall 6) of the exhibition.
Above all SCHUNK will present, for the first time in Russia, its hydraulic expansion toolholder TENDO Slim 4ax. It is the only one which has a super slim design which can 100% fit a shrink-fit holder contour. "Install and work" principle allows the replacement of a shrink-fit holder with the hydraulic method 1:1, perfect vibration absorbing, quick retooling, micron accuracy without any auxiliary equipment.
KSC centering vice with KSC-F solid cam will be displayed for the first time. It has a wide range of sizes and gripping jaws. This is a breakthrough in the field of popular universal high quality vices.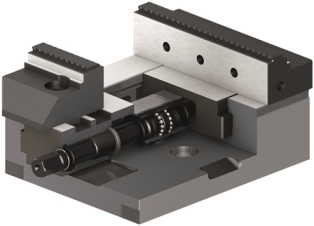 SCHUNK VERO-S mikro is a novelty shown at the exhibition in 2017 and the most portable quick-change pallet system in the world. It will allow an unprecedented reduction of equipment set-up time as well as the time needed for the setting of workpieces on the pallets.
As usual the Company is offering favorable prices for the most popular brand products.
The organizers of the International Exhibition of Equipment, Instruments and Tools for the Metalworking Industry – Metalloobrabotka 2017 are Expocentre AO and the Russian Association of Machine Tool Manufacturers "Stankoinstrument". The exhibition will take place at Moscow's Expocentre from May 15 through May 19, 2017.
***
SCHUNK GmbH & Co. KG is a German family owned company and one of the leading international manufacturers. The company was founded in 1945 by Friedrich Schunk. In the beginning it was a small workshop. Later on with the management of Heinz-Dieter Schunk it became a leader of gripping systems and clamping technologies.
Today the company is managed by the third generation of this family: brother and sister Henrik and Christine Schunk. More than 2 700 employees work at 8 plants, and 30 affiliated companies and a distribution network in more than 50 countries provide a firm stand in the market. The company offers the world's greatest variety of standard automation and clamping products – about 11 000 components. Above all, the company produces a great variety of clamping devices – 2 550. The Company clients are well known engineering companies, automobile manufacturers and their contractors. SCHUNK opened an affiliated representation office in Russia in 2009. Today a team of 20 people is selling high quality SCHUNK products in Russia.
The Metalloobrabotka International Industrial Exhibition founded in 1984 has become the most important machine-tool industry project in Russia offering advanced solutions for the modernization of the Russian machine building industry.

print version