17 / 06 / 2014
Metalloobrabotka'2014: Russia and Germany to Cooperate in Machine-Tool Building
The Stankoprom Holding, a system integrator of the Russian machine-tool industry, and Niles-Simmons, one of the leading German manufacturers of turning machines, have agreed to a SKD assembly of high precision machines in Russia, which will start this year at the Savyolovsky machine-building plant (SMZ).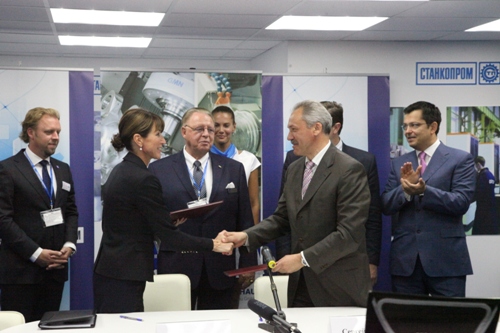 The cooperation agreement was signed on 17 June 2014 by Deputy General Director of Stankoprom, General Director of SMZ Sergey Vetrov and Commercial Manager of Niles-Simmons Micaela Schönherr during the Metalloobrabotka'2014 International Exhibition at Expocentre Fairgrounds. It is a master agreement, which makes provision for cooperation to substitute import of machine-tool products in Russia.
First Deputy Minister of Industry and Trade of Russia Gleb Nikitin, who attended the signing ceremony, expressed his confidence that the signed agreement would become "a beginning of creation of a major enterprise with an export potential in Russia." He highlighted that the agreement "follows the strategy set by the ministry for the next few years related to support of the domestic machine-tool building." It also includes the establishment of a training centre. "I am sure that our personnel, who together with their German colleagues will work and learn in this centre, will lay a foundation for new workforce potential for SMZ and the machine-tool industry as a whole", said First Deputy Minister.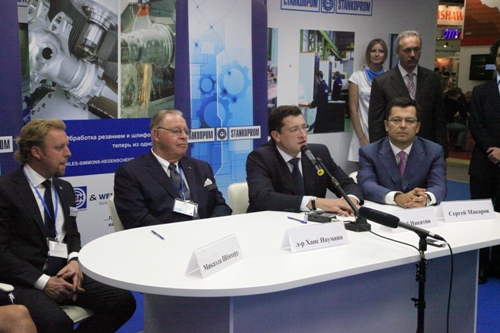 For his part Chairman and CEO of Niles-Simmons-Hegenscheidt Hans J. Naumann has also observed good prospects of the future cooperation. "The Russian market is a very large market. Germany needs Russia just like Russia needs Germany. That being said we expect the long-term successful cooperation", said Mr Naumann.
Industry professionals and specialists rate Metalloobrabotka highly not only for its  showcase opportunities as it is the world's top ten metalworking shows but also as a great place to have meaningful and effective business contacts and to sign major deals. This agreement between the Russian Stankoprom and the German Niles-Simmons confirms it once again.
Press Office
Expocentre ZAO

print version