14 / 05 / 2018
Chinese pavilion at Metalloobrabotka 2018 shows high level of Chinese machines and tools
The Chinese pavilion of metalworking tools has opened at Metalloobrabotka 2018.
At the opening ceremony Deputy General Director of Expocentre AO Mikhail Tolkachev welcomed the exhibitors and said that the national pavilion of Chinese machine builders made its debut at Metalloobrabotka 2012. This year the participants in the pavilion are about 80 Chinese companies. He emphasized that the number of Chinese exhibitors was growing at all trade shows staged by Expocentre. But we are particularly pleasant that the number of Chinese companies has increased in such high tech industry as machine tool building.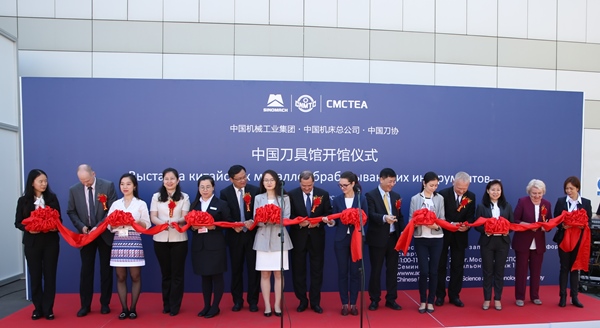 The national pavilion shows high level of Chinese-made machines and tools, said General Manager of China National Machine Tool Corporation Liang Feng in his welcome address. According to him, organization of the Chinese pavilion at Metalloobrabotka 2018 testifies that export of Chinese-made tooling moves to a new level.
Plenipotentiary Minister of Economy and Trade of the People's Republic of China Embassy in Russia Zhao Qunyan expressed her confidence that Metalloobrabotka 2018 being Russia's major show of world machine tool building and modern metalworking technologies serves a good platform to deepen collaboration with potential partners.
President of the Stankoinstrument Russian Association of Machine Tool Manufacturers Georgy Samodurov congratulated his colleagues on the opening of the pavilion. The opening ceremony was also attended by Plenipotentiary Minister of the People's Republic of China Embassy in Russia Sun Jiang, and other officials.
The exhibition website is on https://www.metobr-expo.ru/en/.
Press Service, Expocentre AO

print version