The 20st Swiss Pavilion at Metalloobrabotka
26 / 05 / 2021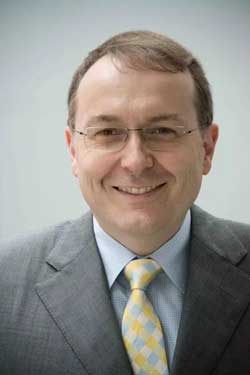 We would have wished to celebrate the jubilee with you under different circumstances. However, we feel so privileged to be with you also this time with a Swiss Pavilion at Metalloobrabotka in Moscow. This is not only documenting the importance of this exhibition but also the long term commitment of the Swiss producers of machine tools and Swiss providers of manufacturing technologies to their Russian partners. Every time Metalloobrabotka A takes place the Swiss Pavilion is an excellent show case for up-to-date manufacturing solutions required to keep abreast with the latest production needs. Its appearance and contents come in a professional, well organised, tidy but also relaxed and beautiful manner. It is a must for any professional visitor of Metallo 2021. In any case, pavilion 8, hall 8.1 is most probably the actual centre of the show and fair ground.
Swissmem, is the largest industrial association of Switzerland and proud to assist the Swiss companies for their presence in Expocentre in Moscow also in pandemic tested year. The Swissmem Machine Tool Manufacturers undertake the task to bring the Swiss Machine Tool Cluster to the show. Besides the actual Machine Tools this includes also the Swiss Manufacturers of Precision Tools, Dimensional Measuring Instruments, coating equipment, machine tool accessories as well as software and service providers related to this cluster.
Metalloobrabotka at Expocentre in Moscow is no doubt the most relevant display of manufacturing technology in the metal working sector in the Russian Federation. It fills me with pride that the Swiss Machine Tool Industry maintains its position – also in difficult times – in this important market window.
We are looking forward to welcoming you in the Swiss Pavilion in pavilion 8, hall 8.1 of Expocentre Krasnaja Presnja from May 24 – 28, 2021, during the 21th Metalloobrabotka. It will be a pleasure for us to be your host. Also, do not miss this opportunity to find the better, the innovative, the Swiss solution for your production and modernisation needs.
Christoph Blättler
Secretary General
Swissmem Machine Tool Manufacturers
---