THE METALLOOBRABOTKA EXHIBITION: IMPRESSIVE PERFORMANCE
For a quarter of a century the show has seen a stable performance improvement.
Over the last 12 years the exhibition space has increased 5 times and the number of exhibitors has become 3 times higher.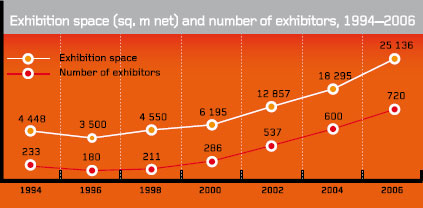 In 2006 the exhibition underwent an independent exhibition audit* and set a new growth record.
Exhibition space (net) – 25 136 sq. m
Number of exhibitors – 720
visitor attendance – 41 430, out of which foreign attendance – over 10 000.
National expositions of 6 countries (Germany, Italy, France, Slovakia, Czech Republic, Switzerland)
Vast number of business events, including a scientific conference - Latest Russian Metal-Working Equipment and Technologies for the Domestic Engineering Industry.
New thematic section - Science, Vocational Education and Production.
* The data is provided by RussCom IT Systems, OOO – an independent exhibition auditor.
EXHIBITORS
Machine-tool industry leaders from 28 countries actively participate in the show which testifies to the significance of the Metalloobrabotka brand for the industry specialists.
93% of exhibitors consider this show a flagship event,
and 85% believe it is the best opportunity to present their innovative products to a wide audience of target customers.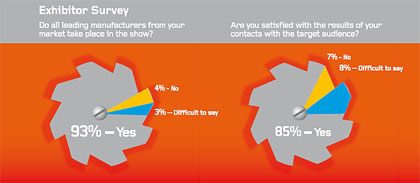 Russian companies continue their tradition of participating in the Metalloobrabotka Exhibition.
The special role of the machine-tool industry in modernization of the Russian engineering complex accounts for a growing number of domestic exhibitors. Russian businessmen consider this exhibition the most prestigious and large-scale industry event, participation in which helps to generate and enhance their business.
RUSSIAN PARTICIPATION FIGURES UP OVER 12 YEARS:
The number of exhibitors has become 5 times higher!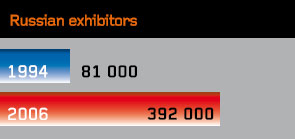 The exposition space has become 8 times larger!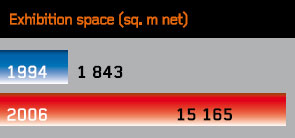 VISITORS
The Metalloobrabotka International Exhibition is attended by industry specialists from 28 countries.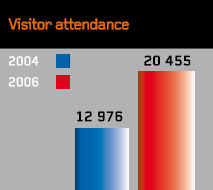 The show creates wonderful environment for the metal working equipment manufacturers and consumers to communicate, see innovative products and exchange opinions.
85% of visitors are company executives and specialists seeking for new business contacts and mutually beneficial contracts.